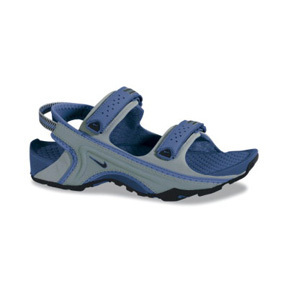 I gave Nike a call yesterday because they've discontinued the best shoe ever made for touring Disney. This Straprunner V makes you feel like you're floating on air. You can walk all day and your feet won't be tired and you won't get blisters. They withstand water rides, rain showers and puddles. They dry quickly and are as tough as nails.
Unfortunately they do eventually wear out. Nike now offers the Rayong. A shoe that will rub all the the skin off the top of your big toe because the strap edges are hard and not padded like the Straprunner V.
This is the second year that I've called to complain about their lack of a sport sandal for women. I don't need a slip on or a thong with a back strap. I need a real shoe and the other brands can't compare to Nike.
So Nike, please take pity and bring back the Straprunner V or at least modify the Rayong to the extent that it's wearable. I don't like to worry about my foot wear when I go on vacation.
That being said, if you're shopping for footwear for your Disney trip don't discount your favorite sport sandal and make sure to put sunscreen on the top of your feet.